Broadly, every business would agree that providing a positive experience is key for keeping customers happy and being commercially viable. Banks exist in a strange hybrid space, like energy providers, in that they're a necessity, and for a long time, this meant customer satisfaction could take a distant back seat to profit.
Now people have more options, we surveyed over 2,000 Brits with a bank account to reveal just how happy they are with their current provider, how digital banks are performing against traditional institutions, and what areas are of most importance when choosing a bank.
The study ends with a ranking of the best-reviewed banks around the world using TrustPilot data.
Nearly 50% of people in the UK aren't satisfied with their bank provider's saving account interest rates
We asked UK customers about their banking experiences and any key frustrations they have to highlight where providers might be going wrong, and what they can do to improve.
From interest rates to average phone call wait times, the top 5 services customers are the least satisfied with include: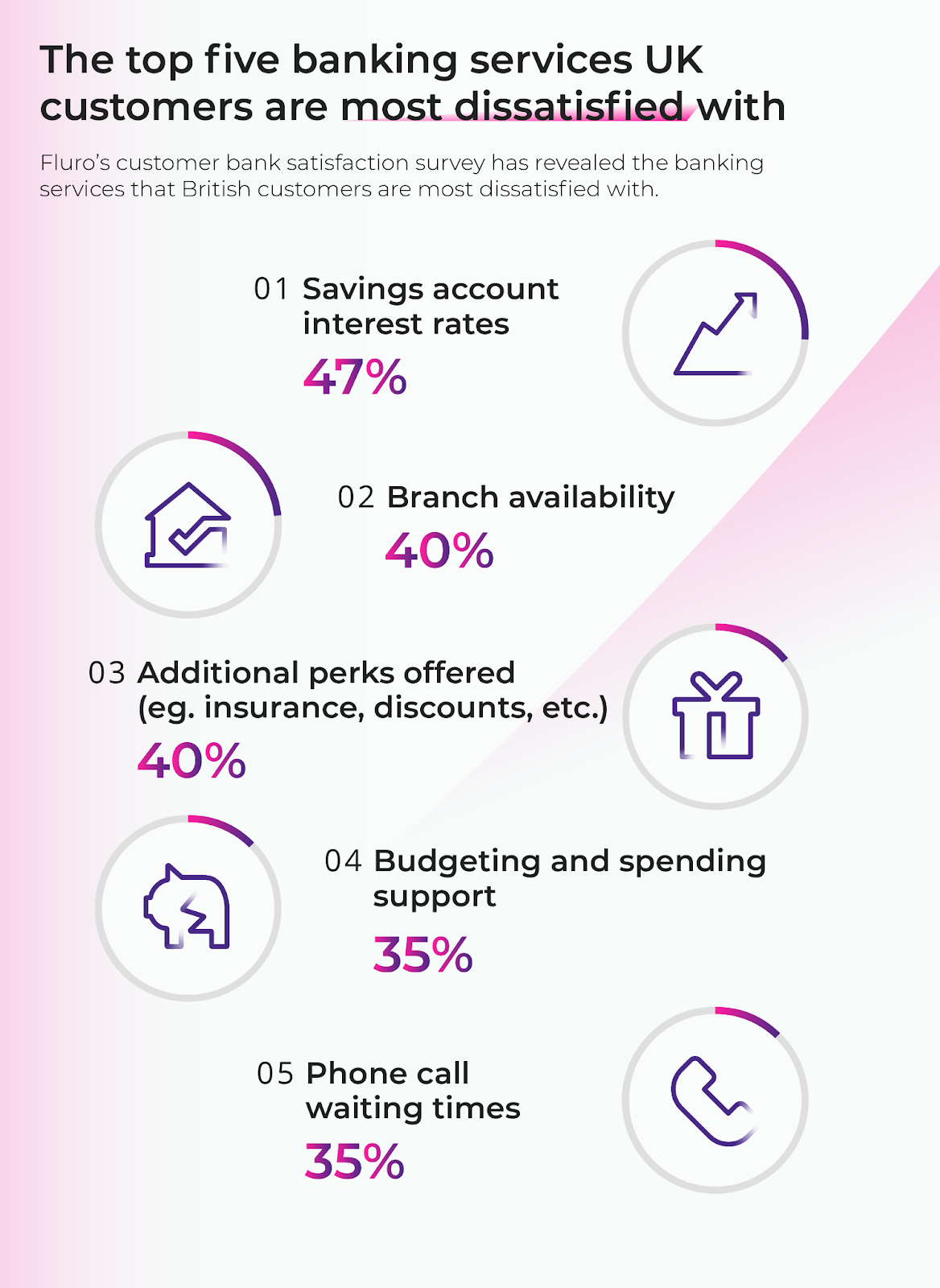 1. Savings account interest rates
Just under half (47%) of respondents said they are not satisfied with their bank's savings account interest rates, making this the number one service that customers are most unhappy with overall. Low interest rates can prevent people from getting the most out of their savings, which may feel particularly frustrating in the current economic climate and when contrasted with the rate of inflation.
2. Branch availability
Branch availability received the second lowest customer satisfaction score, with 40% of Brits we surveyed saying they aren't satisfied with the number of branches their bank has to offer. Despite nearly all banks offering a variety of digital and online services, it appears dealing with your bank in real life is still an important factor for people in the UK and is the second most important feature to consider when customers choose which provider to go with.
We also discovered that Glaswiegens are least satisfied with their bank branch availability at 53%, followed by Bristol and Norwich with 52% and 47% of respondents respectively stating they are not satisfied with this feature
3. Additional perks offered (e.g. insurance, discounts, etc.)
40% of people we surveyed also said they were not satisfied with the additional perks offered by their bank. From travel and breakdown insurance to a free railcard, banks may want to consider additional perks to offer to their customers, as this could attract new individuals to switch providers if their current bank isn't meeting their needs.
4. Budgeting and spending support
The current economic climate means most Brits are having to review their budget and switch up their spending habits. According to our survey results, many people think their bank could be doing more to help them with this, with 35% of our respondents stating that they aren't satisfied with the budgeting and spending support currently available to them.
5. Phone wait times
Most of us are familiar with the frustration of being kept on hold while trying to make an important call, so it's no surprise that over a third (34.5%) of survey respondents are unhappy with how long they have to wait to get through to their bank over the phone.
Other features in the top five most important aspects of choosing a bank provider include branch availability and high-quality in-person customer service. The results show that UK customers value a hybrid of both high-quality digital and in-person services.
"Until recently, low interest rates and awful customer service with a legacy bank was understandably preferable to taking a risk on an unknown digital company in the online wild west. But with the rise of challenger banks, digital financial services, and the internet providing a ubiquitous resource for education, public reviews, and awareness around unfair practices, the chokehold of incumbent financial institutions has greatly loosened. Old school banks are now facing the pressure to adapt or lose out to their digital counterparts for younger generations."
How satisfied are UK customers with their bank's digital services?
According to our survey, over two thirds of UK bank customers are happy with the online service features and functionality offered by their bank (70%), as well as the bank's mobile app features and functionality (68%). Over half (58%) are also satisfied with their bank's mobile app customer service.
When it comes to areas of improvement in bank providers' digital services, our results reveal that only half of respondents are satisfied with their bank's online customer service wait times (50%) and communication (49%). Online customer service (such as through ChatBots) can be more difficult and frustrating than in-person service, so it is important for banks to prioritise getting this if they want to keep customers happy.
The top 10 global banks for customer satisfaction
How do British banks fare compared to other banks across the world?

To find out, we analysed the 37 largest traditional banks, as well as 12 of the most popular digital banks worldwide, scoring them according to their percentage of positive and negative reviews on TrustPilot. Each bank was awarded an index score based on this analysis, allowing us to create a ranking of the banks that offer customers the best service overall.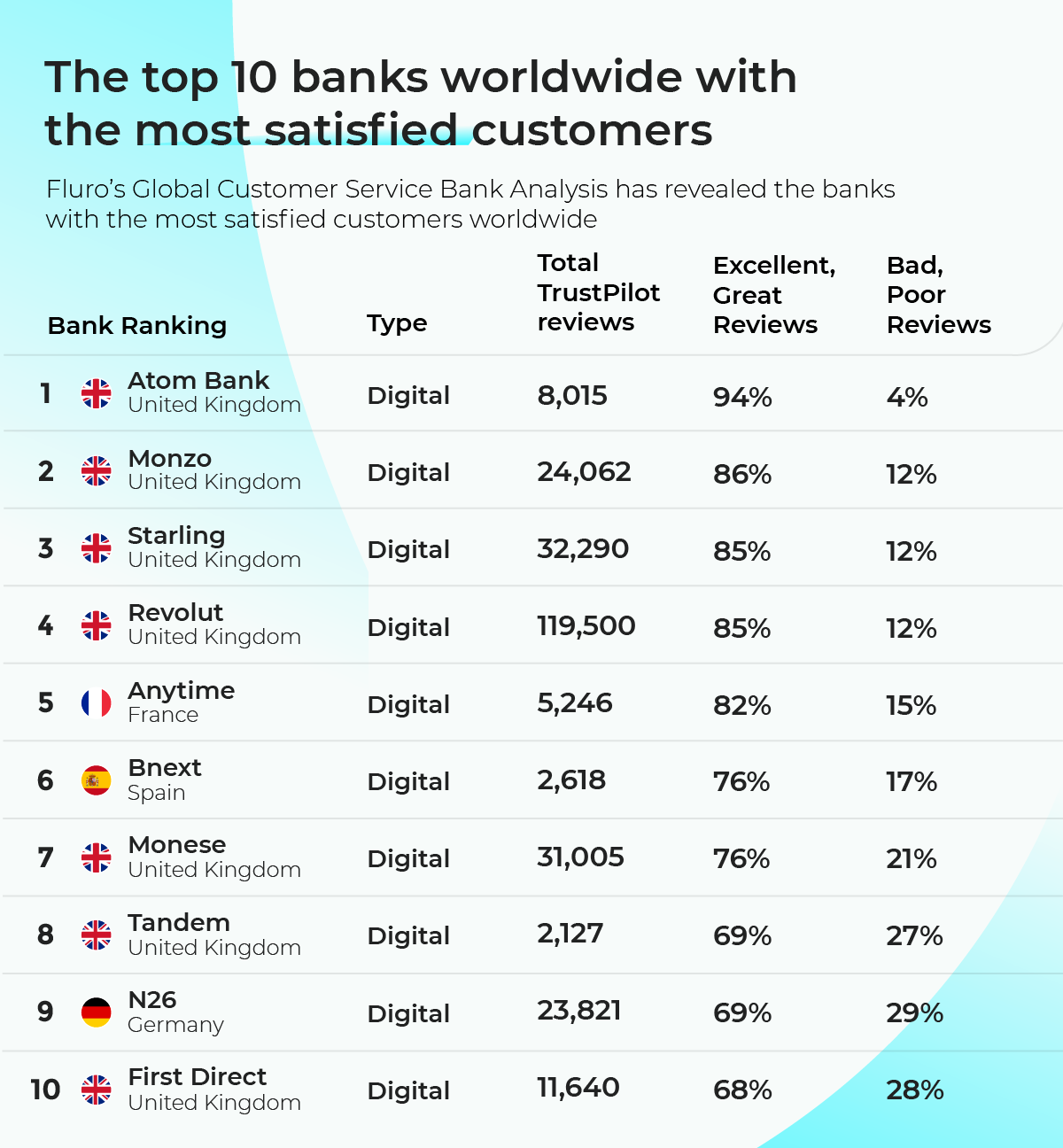 70% of the top 10 banks are UK-based
According to Trustpilot reviews UK banks come out on top for customer satisfaction, with seven out of the top 10 banks being UK-based.
Atom Bank ranks as the number one provider, with an impressive 94% of all reviews rating it as 'great' or 'excellent'.
Fellow UK digital banks Monzo and Starling come in second and third, with 86% and 85% positive reviews respectively. The only non-UK banks to make the top 10 are French bank Anytime (82% positive rating), Spanish bank Bnext (76%) and German bank N26 (69%).
Digital banks dominate the top 10 list for customer satisfaction
All of the banks that rank in our top 10 list are digital, meaning they provide 100% of their services online or via apps.
As these banks rely on their websites and mobile applications (rather than in-person branch customer service) to operate, they generally invest much more into guaranteeing that their digital services operate smoothly and efficiently – which ranked as a top priority for UK bank customers. This enables many digital banks to provide customers with a better overall experience, contributing towards the high ratings on Trustpilot.
We also took a look at the UK's 50 biggest fintech startups to see if there is a correlation between the strong positive customer experience customers receive with digital services over traditional. On average, traditional banks saw a staggering 82% of bad and poor reviews left on Trustpilot, compared to digital banks who received an average of 37%. UK fintech companies top both for reviews with just 17% of reviews coming back from customers that were dissatisfied.
Over a third (35%) of our survey-takers said that they currently have both a digital and traditional bank account. As technology continues to advance and fintech companies emerge to support the services of banks, consumers may begin to move away from their traditional way of banking towards both digital banks and other online financial services.
With impressive customer satisfaction performance from the UK's top digital banks, we predict a shift in younger generations preferring to bank online. Whilst impossible to point to a direct reason from our survey results, it is likely the desire to use bank branches stems from a lack of online support from traditional banks coupled with older generations typically staying with one bank for a lifetime. Digital natives, however, are much more likely to shop around and are comfortable more frequently changing their bank, nullifying dissatisfaction from branch availability.
Overall, our investigation into bank customer satisfaction identified several key areas for banks to improve on, including in particular interest rates on savings accounts, branch availability and additional perks. We also confirmed the need for banks to continue to keep up with modern technology and expand their digital services if they want to attract and retain customers.
Here at Fluro, our vision is to change the credit industry for good. We want it to be good for the customer, something we feel has been severely historically lacking in finance. Complex terminology, unique maths conventions, and untaught regulations means there's an invisible barrier to entry for many. This is something we are changing, we want finance to be clear and simple.
We're not only proud of our customer service, but our endeavour to build an entire product and experience that puts the customer first, and we're proud to see that reflected in our Trustpilot review.
---
Methodology and sources
Fluro surveyed 2,095 18+ UK residents with a bank account to find out how satisfied they were with the services their banks provide. The percentage of customers who are not satisfied includes those who selected "neither satisfied nor dissatisfied" and those who selected "dissatisfied".
Fluro then analysed a seedlist of the top 37 global traditional banks, as well as 12 of the most popular digital banks and UK fintech startups, looking at their TrustPilot percentage of positive and negative reviews in order to rank these top world banks in order of customer satisfaction. Positive reviews included 4 and 5* reviews whilst negative reviews included 1 and 2* reviews.
Data collection 9/11/22
Survey conducted in November 2022