Financial technology, commonly referred to as fintech, is a rapidly growing industry that is revolutionising the world of financial services both for businesses and consumers. With the market predicted to reach $310 billion by the end of 2022, more cities across the world are seeing fintech initiatives emerge, and as a result, more jobs and roles are being created to join this dynamic sector.
But which locations are leading the way in fintech, and where offers the best employment opportunities to explore a career in this space?
Fluro set out to find the answer, analysing 50 global financial cities against the following metrics to determine the ultimate fintech hub:
Number of fintech companies registered
Total funding amount
Number of investors
Number of fintech events
Number of fintech unicorns
The study also looks at the career opportunities in each of these locations to determine the best locations for those looking to progress in this industry. Metrics include:
Number of fintech job opportunities
Average fintech salary
Average cost of living
Quality of life score
% of STEM graduates
Based on these findings each city received a score out of 10 to determine the fintech capitals of the world, and the best cities for a career in this space.
The world's biggest fintech hubs
Based on our findings, the top 15 fintech hubs of the world include: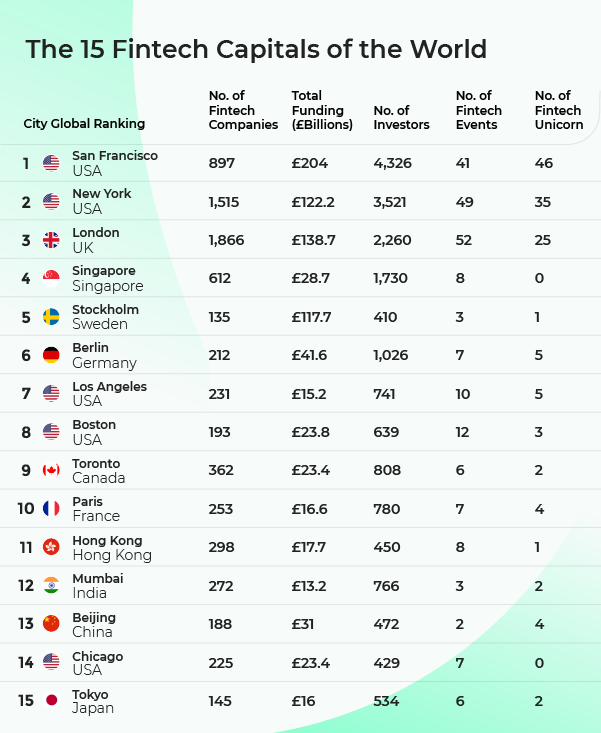 San Francisco takes the crown as the world's fintech capital of the world
Overall, the California city, San Francisco ranks first as the fintech hub of the world, leading the way in metrics such as funding at almost £204 billion, over £60 billion more than any other city. San Francisco also ranks top for its number of fintech unicorns at 46 and its number of investors at 4,326, over 2,000 more than the UK capital which has 2,260.
Whilst it doesn't have the highest number of fintech companies registered overall, San Francisco still ranks third for this metric with 897.
New York City ranks as the second global fintech hub
The Big Apple ranks in second place and even conquers San Francisco when it comes to the number of fintech companies, with 1,515 registered, ranking second overall for this metric.
New York's funding amount makes the city the third highest for this metric at £122 billion, whilst it ranks second to San Francisco for its number of investors with 3,521.
London sits in third and boasts the greatest number of fintech companies
The Deputy Mayor of London for Business claimed earlier this year that London is the fintech capital of the world. While the capital ranks in third place on our list, it does come out on top for the total number of fintech companies; there are 1,866 fintech companies located here, which is over 300 more than New York and nearly 1,000 more than San Francisco.
London also has more funding available than New York City at just shy of £140 billion, making it second only to San Francisco for this metric. In addition, London is home to 52 fintech events – more than either New York (49) or San Francisco (41).
While Singapore in fourth has significantly fewer fintech companies (612) compared to London and New York, it has a healthy number of investors at just over 1,700 with a total funding amount of $28.7 billion. Interestingly, Stockholm – following in fifth with just 135 fintech companies – has over four times the funding amount ($117.7 billion) with just 410 investors.
The best cities for a career in fintech
With the fintech industry showing no signs of slowing down, more opportunities are emerging to work in this sector.
Based on our findings, the top 15 cities for a role in fintech include: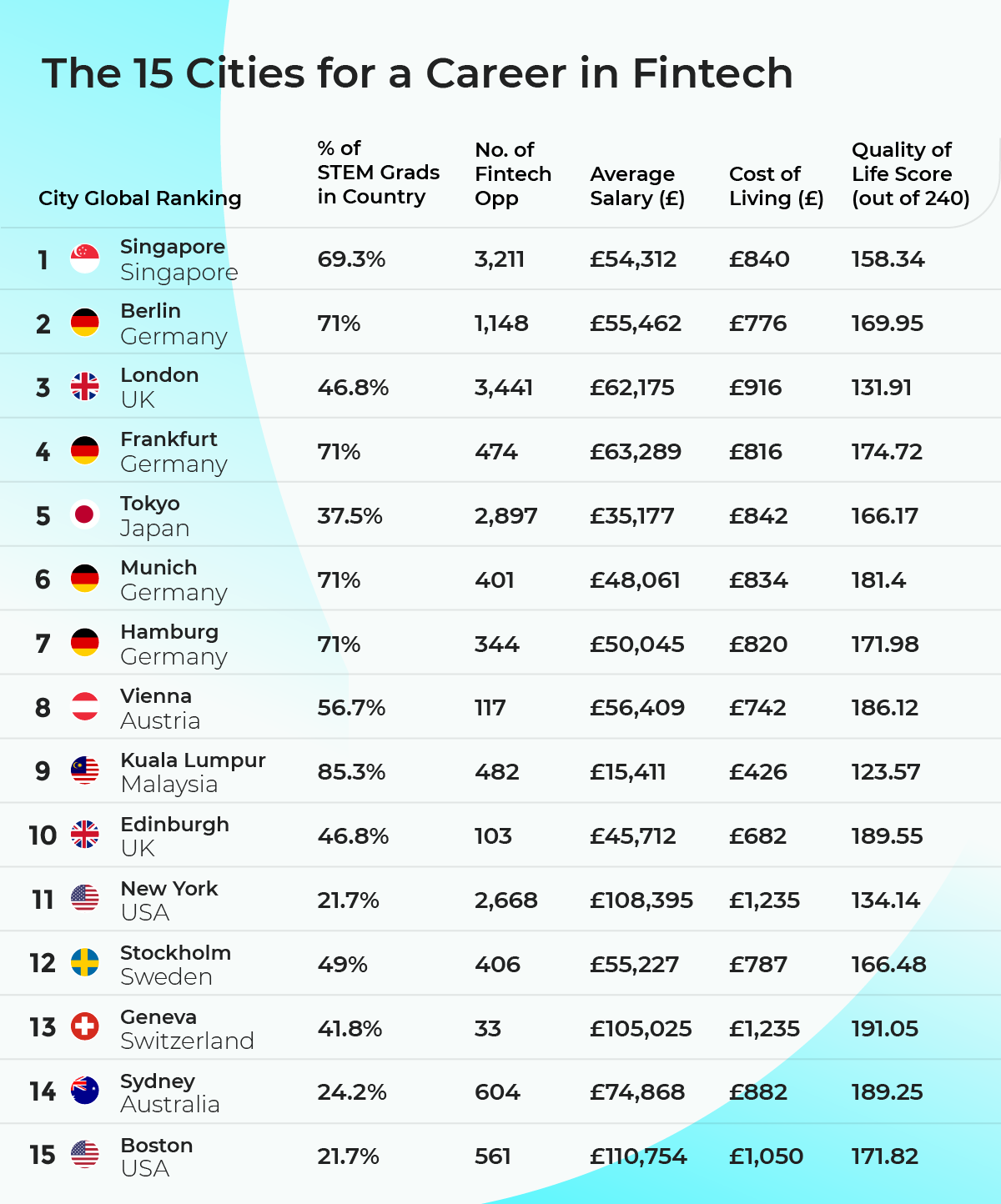 Singapore named the top location for a career in fintech
Though Singapore came fourth on our list of top global fintech hubs, it has been crowned the best for those looking to launch a career in this sector. The research reveals Singapore has 3,211 fintech job opportunities, which is the second highest of all locations analysed. These figures are even more significant when comparing this to the number of fintech companies Singapore has at 612, three times less than London.
Singapore offers an average annual salary of £54,312, which just makes it place in the top 20 best-paying locations in fintech.
Berlin places second for a job opportunity in fintech
The German capital ranks second, with a slightly higher average salary than Singapore at £55,462, as well as a lower cost of living (£776) and better quality of life score (169.95 vs 158.34 in Singapore). There is plenty of talent to fill the 1,148 fintech job opportunities available in Berlin, with Germany having the highest percentage of STEM graduates at 71% currently.
Germany overall places well as a top location for a career in fintech with four out of the top 10 cities based here.
The UK capital, London, ranks as the third top global city for a career in fintech
Home to the highest number of fintech companies in the world, it comes as no surprise that London also has the most fintech jobs available at 3,441 of all cities analysed.
The average salary in fintech in this city is £62,175, making it the 14th best location for pay. The U.S. cities tower over other locations in the ranking for this metric with San Francisco coming in with the highest pay at £121,732.
Frankfurt, Germany and Tokyo, Japan round off the top five cities for a career in fintech.
The fintech industry is growing year on year, with companies in this sector continuing to multiply and offer new services. These businesses are covering a variety of areas from lending to crypto, going beyond their product offering by providing efficiencies that put the customer first. Pioneering the personal loans space, Fluro challenges the way the industry traditionally does things, from providing applications to customers that can be completed in minutes to giving more transparency on rates.